ILST Training
April 11 @ 8:00 am

-

4:00 pm

UTC+0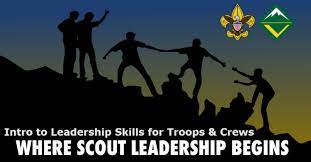 Troop 5014 will be offering the full ILST course for any interested scouts.
ILST is  INTRODUCTION TO LEADERSHIP SKILLS FOR TROOPS and is usually required before NYLT. It is to acclimate younger scouts with the troop structure and patrol method.  There are 3 modules and each module takes about 2 hours. So we estimate we will need 6 hours of instruction. Instruction is a mix of classroom and activities.
If any Leader or senior scout want to assist as an instructor contact me at kkerr@troop5014.org or 716-982-1721
DATE: we choose April 11th because all schools are off for Spring break.
LOCATION: will be in Lockport area. We are currently checking availability of St. Johns (our CO) or we may use the scout offices on
LUNCH: At this time lunch is up to the scouts. They can bring a lunch or if there is interest and they wanted to pitch in we could order a sheet pizza.
COST: $3.scout donation. There is no required cost but we are asking for a $3/scout donation to offfset the paper and toner supplies. Scout will revive a packet at checking with information for each module covered.
Tentative Schedule
8:00-08:30 Arrive check IN
8:30-10:30 Module 1
10:30-12:30 Module 2
12:30-1:30  Lunch & Free Time (Scouts on their own for lunch,
1:30-3:30 Module 3
3:30-04:00 Recap, Reflect, Graduation, Closing
Module 1 – Unit Organization
Introduction to the Course—5 MINUTES
Introduction to Vision—10 TO 15 MINUTES
Troop Organization—15 TO 25 MINUTES
The Team-Based Troop—25 TO 30 MINUTES
Leadership Styles—10 TO 15 MINUTES
90 min
round to
2 hrs
Module 2 – Tools of Leadership
Introduction to the Tools of Leadership Session—5 MINUTES
Communications—20 TO 30 MINUTES
Planning—20 TO 30 MINUTES
The Teaching EDGE—15 TO 25 MINUTES
85 min
round to
2 hrs
Module 3 – Leadership and Teamwork
Introduction to Leadership and Teamwork Session—3 MINUTES

82 min

Teams and Team Characteristics—5 TO 10 MINUTES
Stages of Team Development—10 TO 15 MINUTES
Including the Whole Team—10 MINUTE
Revisiting Vision—5 MINUTES
Leadership Ethics and Values—15 TO 25 MINUTES
Role Playing Leadership Challenge Scenarios—15 TO 20 MINUTES
Wrap Up the Introduction to Leadership Skills for Troops Course—2 MINUTES
round to
2 hrs
Total round to
6 hrs